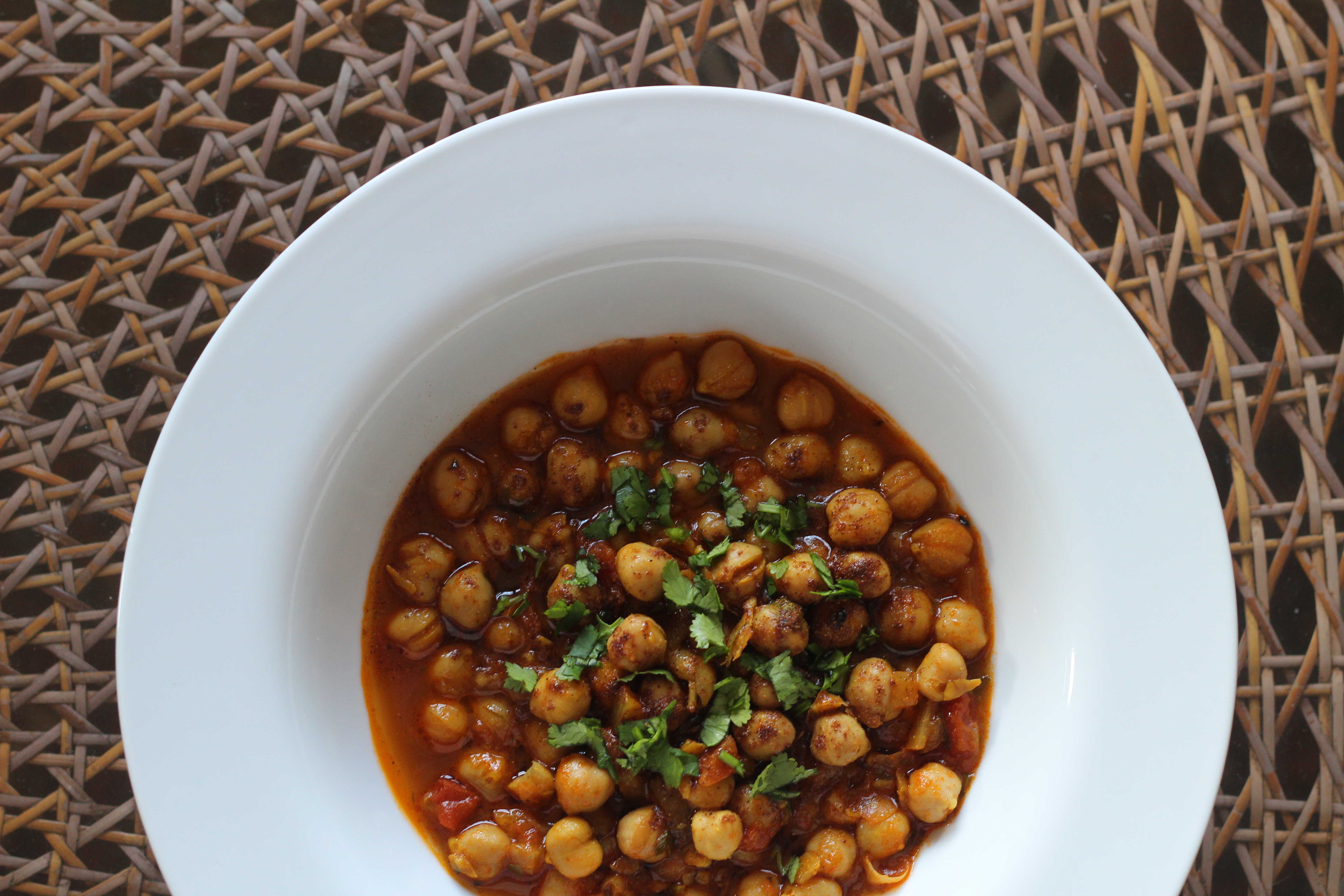 I love Indian food, and one of the dishes I like to eat is Chickpeas. They're spicy (although you can make it less so, if you want) and pretty easy to make.
First, chop:
– 1 medium onion and put it in a pot (make sure there's oil in it first).
Simmer the onions on low heat until brown.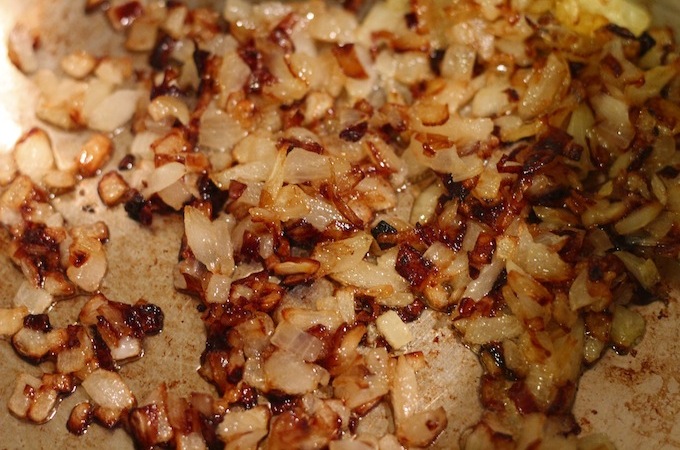 Then add:
– 2 cloves of garlic (minced)
– a 1-inch piece of ginger (also minced. I recommend grinding it in a mortar and pestle after.)
I didn't have any ginger today, so I just skipped that step, which is perfectly fine.
Add the garlic and ginger to the onions and let that cook for a minute.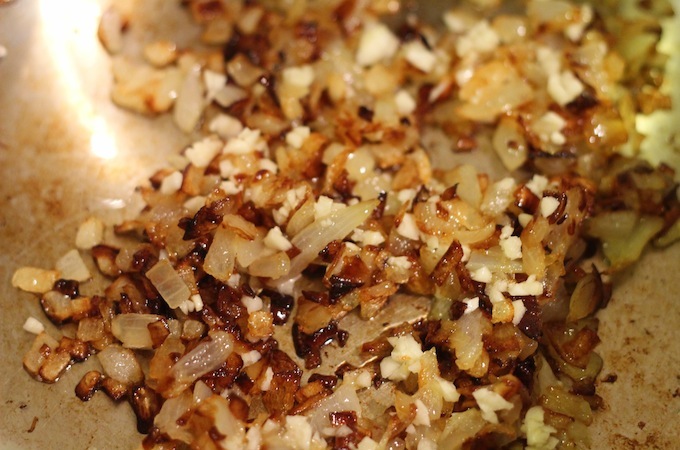 Then it's time to add the spices: (you can turn off the stove for while you do this, if you don't want to risk overcooking the onions.)
– 3/4 tsp. turmeric
– 1/4 tsp. ground cumin
– 1/2 tsp. ground coriander
– 1/2 tsp. curry powder
– 1/4 (if you don't like too much spice) to a slightly over-filled 1/2 tsp. (my recommended measurement) cayenne pepper
– 1/4 tsp. onion seed ("calonji")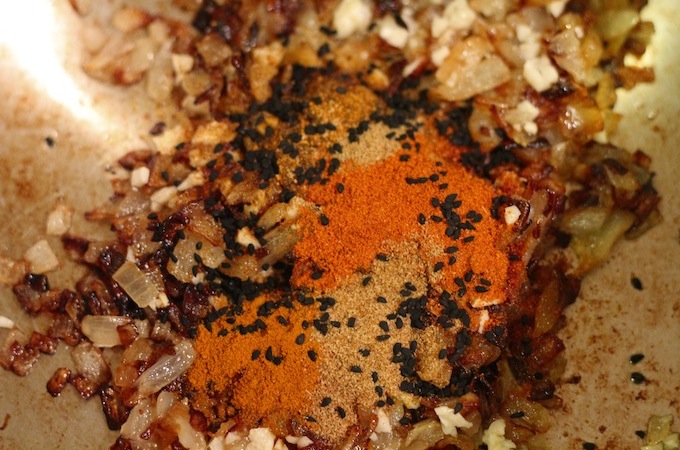 After the spices are added, drizzle a little bit of oil over them, then mix them into onion/garlic/ginger.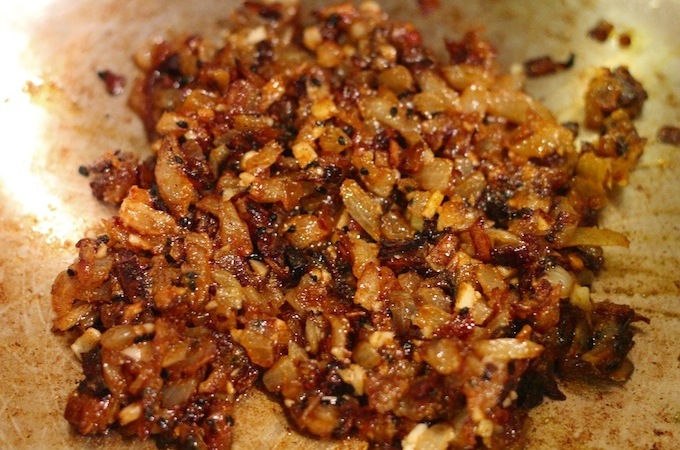 Next, add & mix in, and simmer covered for about 10 minutes to reduce:
1 cup Muir Glen crushed tomatoes with basil
1 cup water
Add 2 large cans of organic chickpeas ("garbanzo beans"), strained and rinsed, to your pot. I used the "Westbrae Natural" brand. Mix this in, lightly.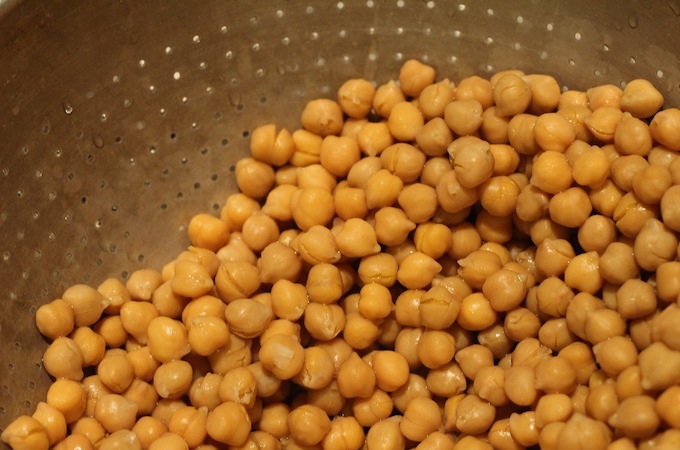 Get about 2 cups of water (more if needed) and pour it into your pot, covering the top of the chickpeas. Stir this in also.
Let everything simmer on medium to low for about 20 minutes, stirring occasionally and adding more water if it gets too dry—more is needed if the water drops below the height of the chickpeas.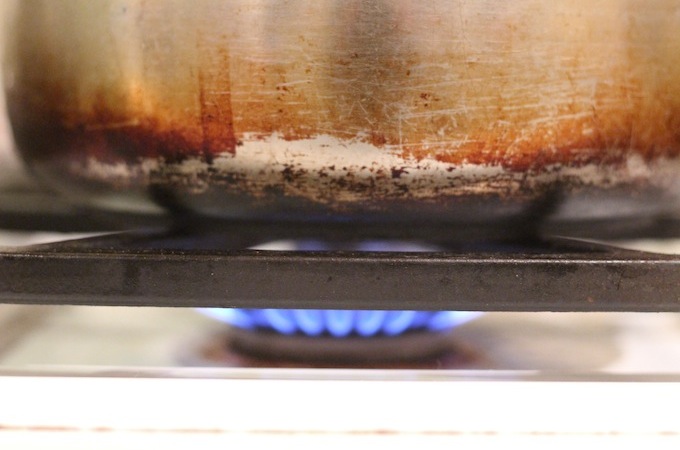 Now is a good time to clean up anything you didn't put away as you were cooking.
To finish the dish, turn off the heat and add 1 tsp. (or to taste) of salt and mix. You can also mash a couple of the chickpeas against the side of the pot with a spoon and stir to thicken the dish.
Drizzle some organic extra virgin olive oil over the top, and sprinkle on 1/2 tsp. Frontier Garam Masala and fresh, organic chopped cilantro. Mix everything before eating.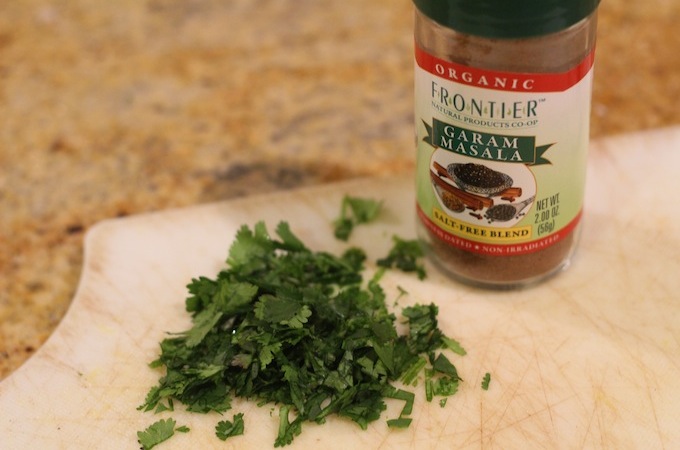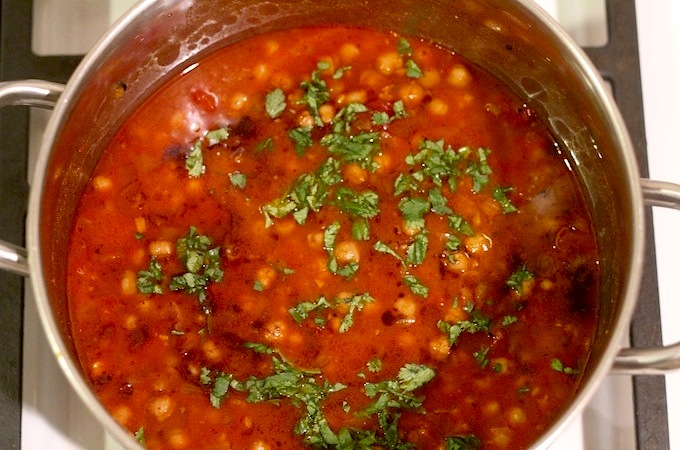 Serve with rice and plain yogurt (being Indian food, you could also have it with roti or paratha bread), as well as some Cabbage & Onion Saute (recipe to come) if wanted. Enjoy!
Curried Chickpeas
Ingredients
1 medium onion
2 cloves garlic
1-inch piece of ginger (minced)

Spices:


¾ tsp. turmeric
¼ tsp. ground cumin
½ tsp. ground coriander
½ tsp. Shan curry powder
¼ to a slightly over-filled ½ tsp. (best) cayenne pepper
¼ tsp. onion seed ("calonji")


1 cup Muir Glen crushed tomatoes with basil
3 or so cup water
2 large cans organic chickpeas ("garbanzo beans")


1 tsp. (or to taste) salt
extra virgin olive oil
½ tsp. Garam Masala
Organic cilantro
Instructions
Chop onion and place in oiled pot
Simmer on low until brown
Mince the garlic and ginger then add to pot
After a minute or so, add the spices
Drizzle some oil over the spices and mix everything well
Add the crushed tomatoes and 1 cup water
Mix and let simmer, covered, for 10 minutes to reduce
Strain and rinse chickpeas, then add to pot and mix
Fill pot with water, just covering the top of the chickpeas
Simmer on medium/low for about 20 min, and keep water filled to the same level
Mash a few chickpeas against side of pot to thicken
When flame is off, add and mix salt
Drizzle with olive oil and sprinkle with Garam Masala
Finish garnish with cilantro, chopped
Mix before eating